Tricking for Schools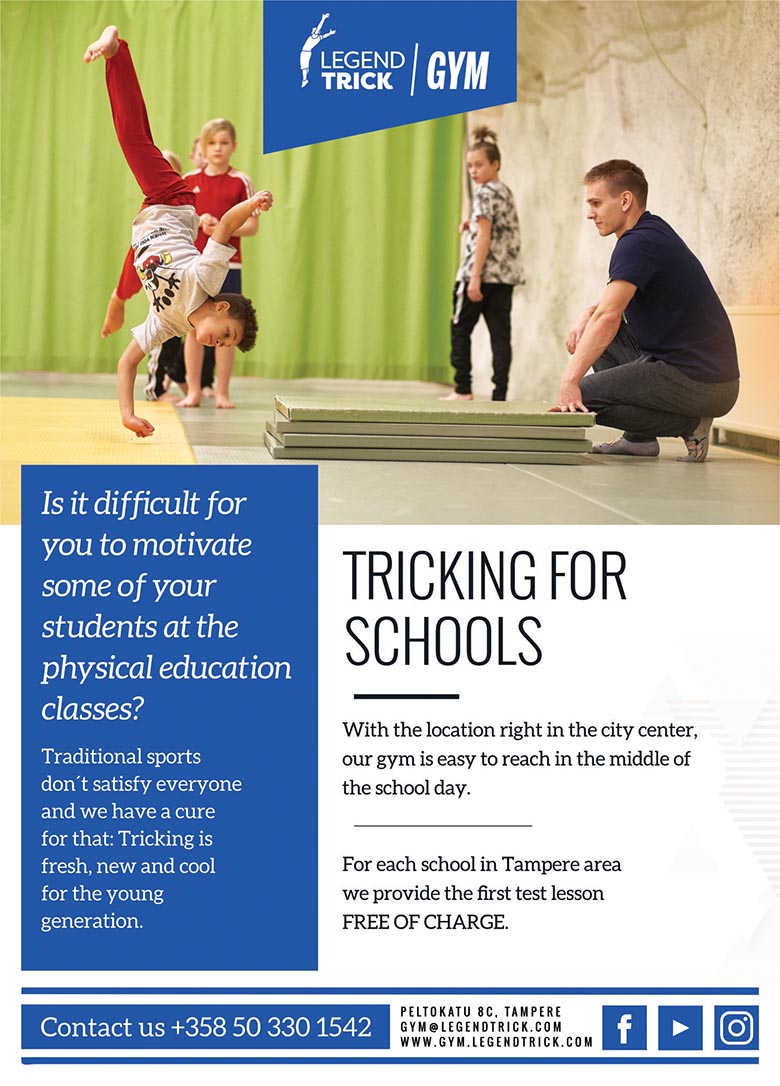 Is it difficult for you to motivate some of your students at the physical education classes? Traditional sports don´t satisfy everyone and we have a cure for that. Tricking is fresh, new and cool for the young generation. With the location right in the city center, our gym is easy to reach in the middle of the school day.

For each school in Tampere area we provide the first test lesson FREE OF CHARGE. Come to try with no risk, we are sure your students will love it and want to come back. Contact us at: gym@legendtrick.com to ask more.
Tricking for Sport Organizations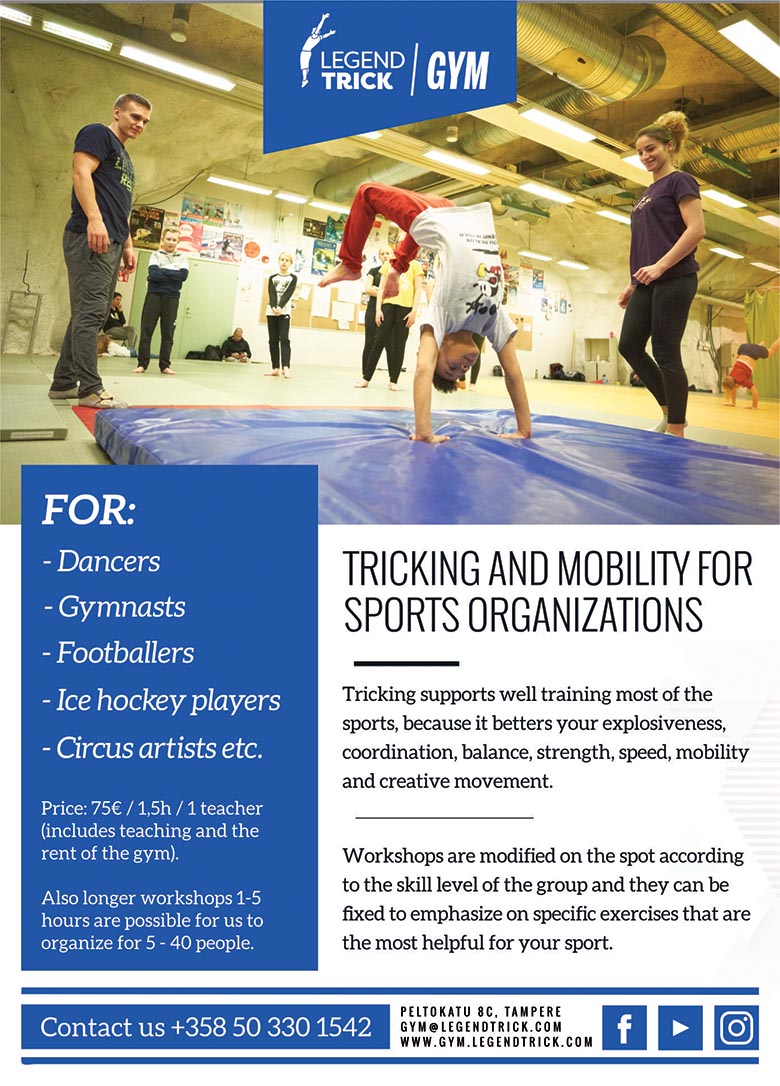 Tricking supports well training most of the sports, because it betters your explosiveness, coordination, balance, strength, speed, mobility and creative movement. Our most regular clients are dancers, gymnasts, circus artists and footballers, but we are constantly looking for new sports organizations to co-operate with in order to help the athletes progress on faster rate.

These workshops are modified on the spot according to the skill level of the group and they can be fixed to emphasize on specific exercises that are the most helpful for your sport. Workshops can be held for the whole organization, for competition group or even as private lessons. Please contact us at: gym@legendtrick.com and we will figure out the best option for your organization.

Price: 75€ / 1,5h / 1 teacher (includes teaching and the rent of the gym)

Also longer workshops 1-5 hours are possible for us to organize for 5 – 40 people.
Birthday Parties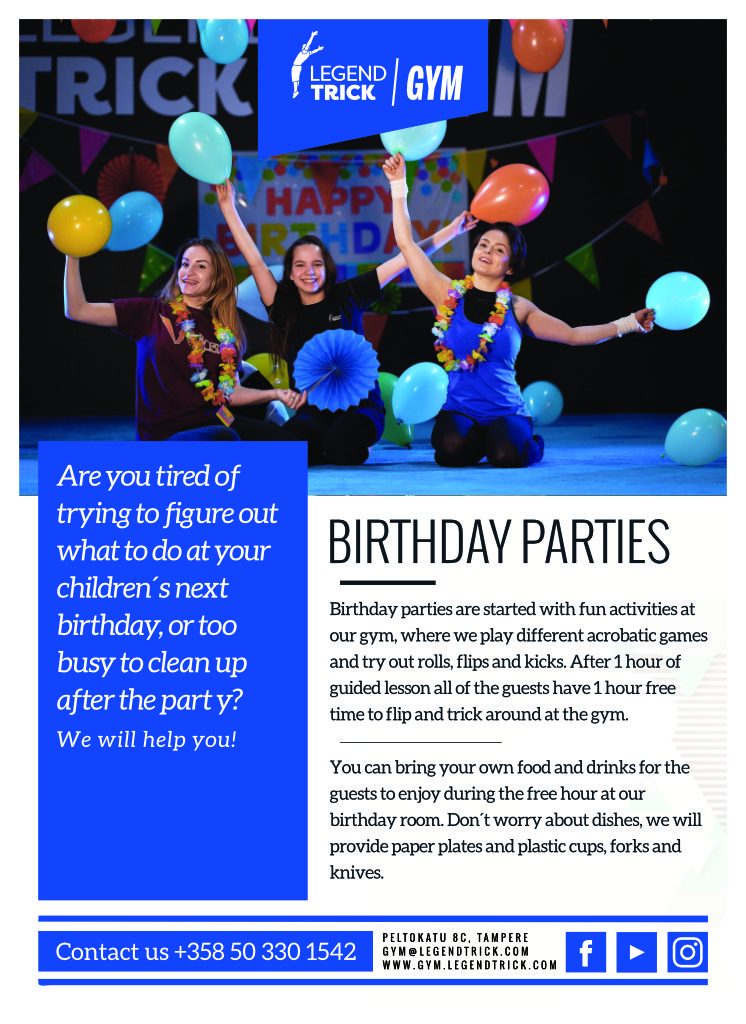 Are you tired of trying to figure out what to do at your children´s next birthday, or too busy to clean up after the party? We help you. Birthday parties are started with fun activities at our gym, where we play different acrobatic games and try out rolls, flips and kicks. After 1 hour of guided lesson all of the guests have 1 hour free time to flip and trick around at the gym. You can bring your own food and drinks for the guests to enjoy during the free hour at our birthday room. Don´t worry about dishes, we will provide paper plates and plastic cups, forks and knives.
Price: 180€ / max 12 people / 2 hours
280€ / 13 – 20 people / 2 hours
Extra packages: * Competition with prizes – 30€
* Snacks and drinks provided by us – 10€ per person
Please contact us at: gym@legendtrick.com to book your birthday party!
Company Team Building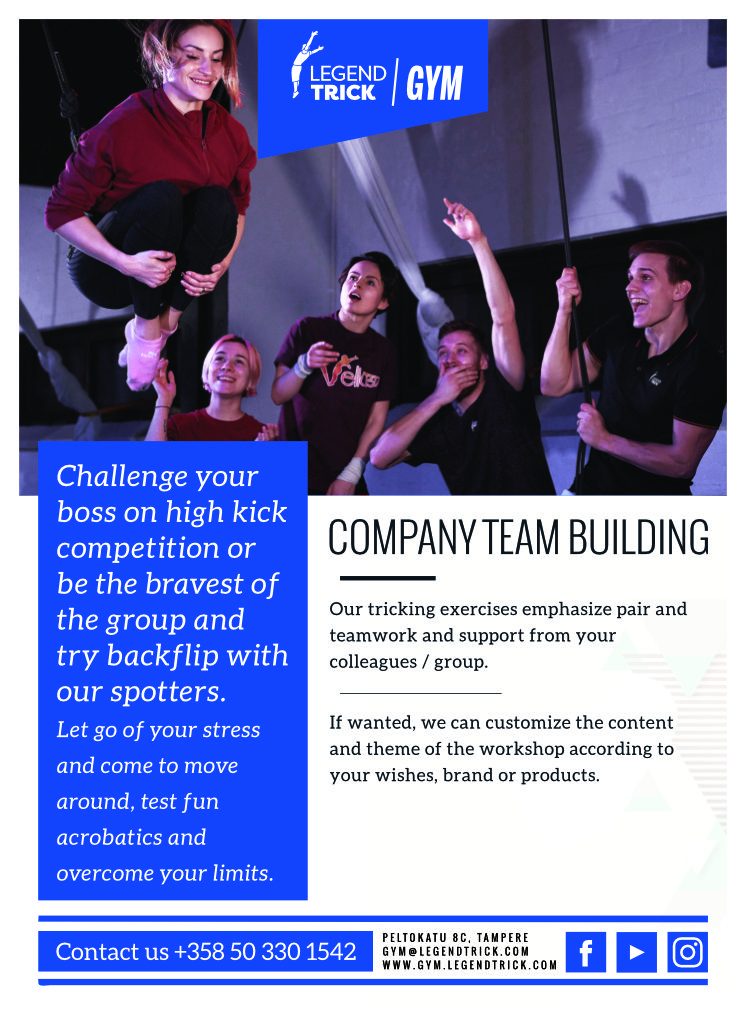 Tricking and acrobatics is one of the best forms of self-therapy. While building your self-confidence you most certainly don´t have time for thinking about the stress in your work, the only thing you are focused on is figuring out the right movement patterns and letting go of your limited mindset. And exactly those things will help you and your staff to overcome the problems after getting back to work.

Our exercises emphasize pair and teamwork and support from your colleagues / group. With us you can easily organize unforgettable and different corporate days for your staff or clients in many occasions: Workplace health promotion, team days, end of the meetings and conferences, client meetings, family events and little christmas parties. Challenge your boss on high kick competition or be the bravest of the group and try backflip with our spotters.

If wanted, we can customize the content and theme of the workshop according to your wishes, brand or products. Contact us at: gym@legendtrick.com and ask for the offer!
Bachelor Party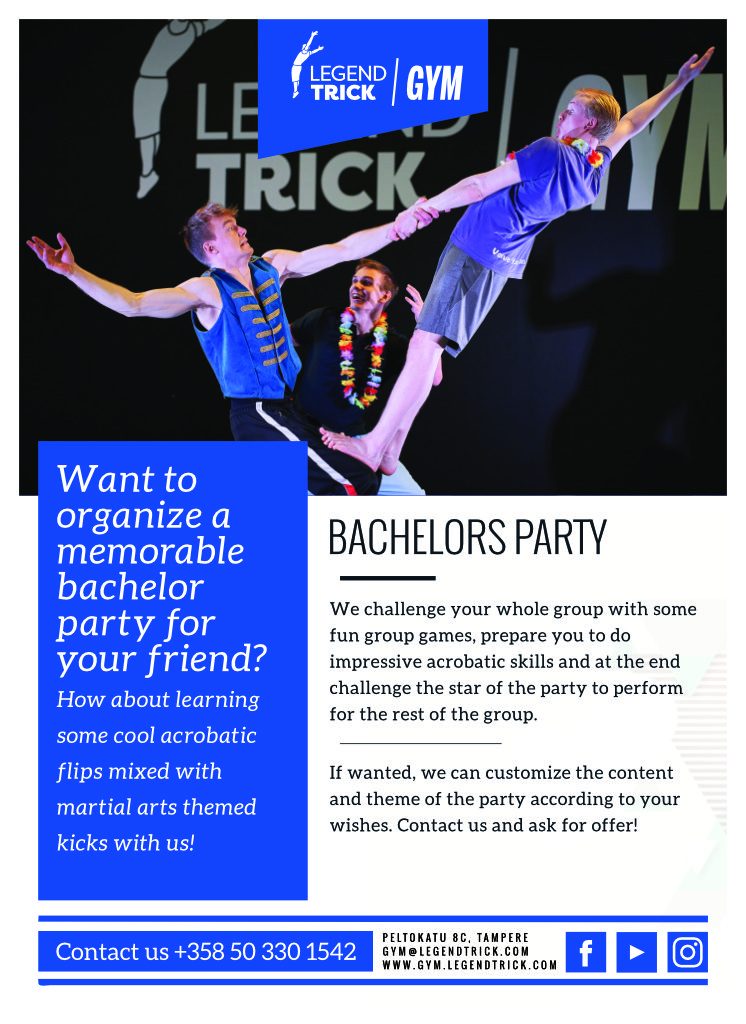 Thinking what to organize for your friend for the bachelor party? Want to stand out from the rest and give him/her the unforgettable experience she/he deserves?

Our Bachelor parties have been a huge success with lots of laughter. We prepare your group with acrobatic training and challenge the star of the party to perform in the end for the rest of the group. Everything with a good taste of course 😉

Contact us and ask for offer: gym@legendtrick.com