Trikkausta kouluille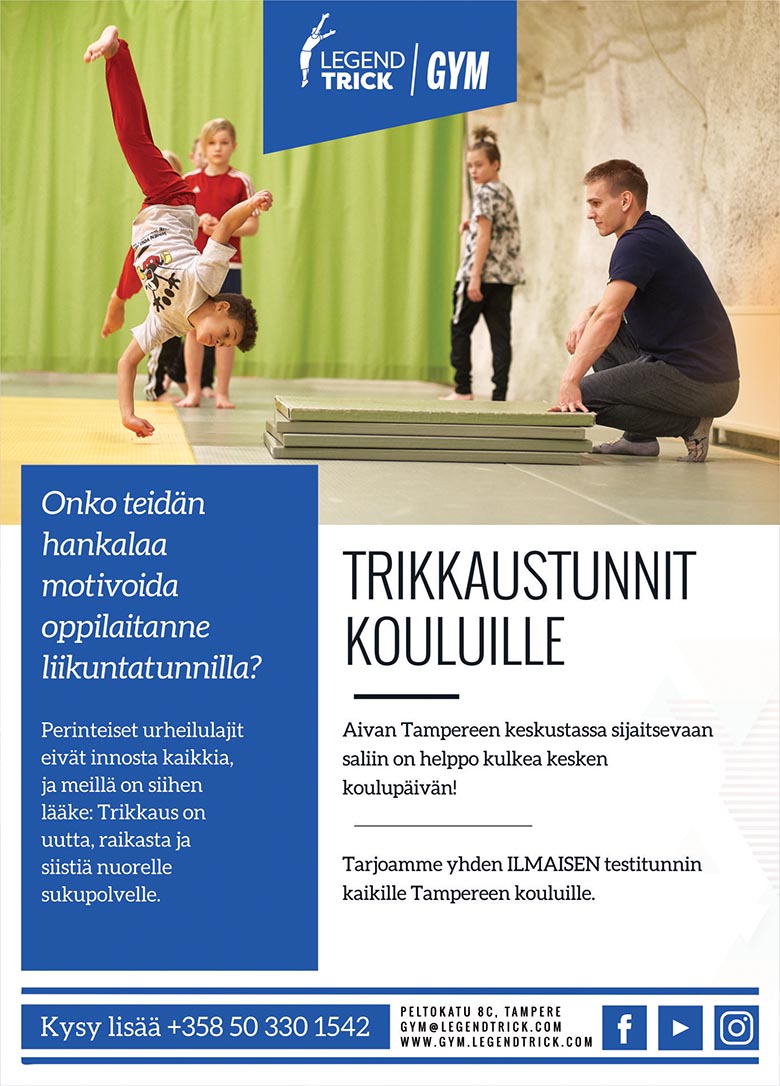 Onko nuoria vaikea motivoida perinteisillä liikuntatunneilla? Haluavatko lapset kokeilla uusia, näyttäviä lajeja? Järjestämme kouluille matalan kynnyksen akrobatia-aiheisia liikuntatunteja. Lajivaihtoehtoina tarjoamme mm. Trikkausta (voltteja, potkuja, kierteitä), Parkouria (etenemistä hyödyntäen ympäristön esteitä), sekä
käsilläseisontaa ja venyvyyttä. Kaikissa lajeissa korostamme turvallisuutta ja kehon hyvinvointia. Pyrkimyksemme on tarjota lapsille ja nuorille mahdollisuus kokeillu uusia, trendikkäitä ja näyttäviä lajeja, sekä herättää liikunnan kipinä uusien lajivaihtoehtojen kautta.
Trikkausta liikuntaseuroille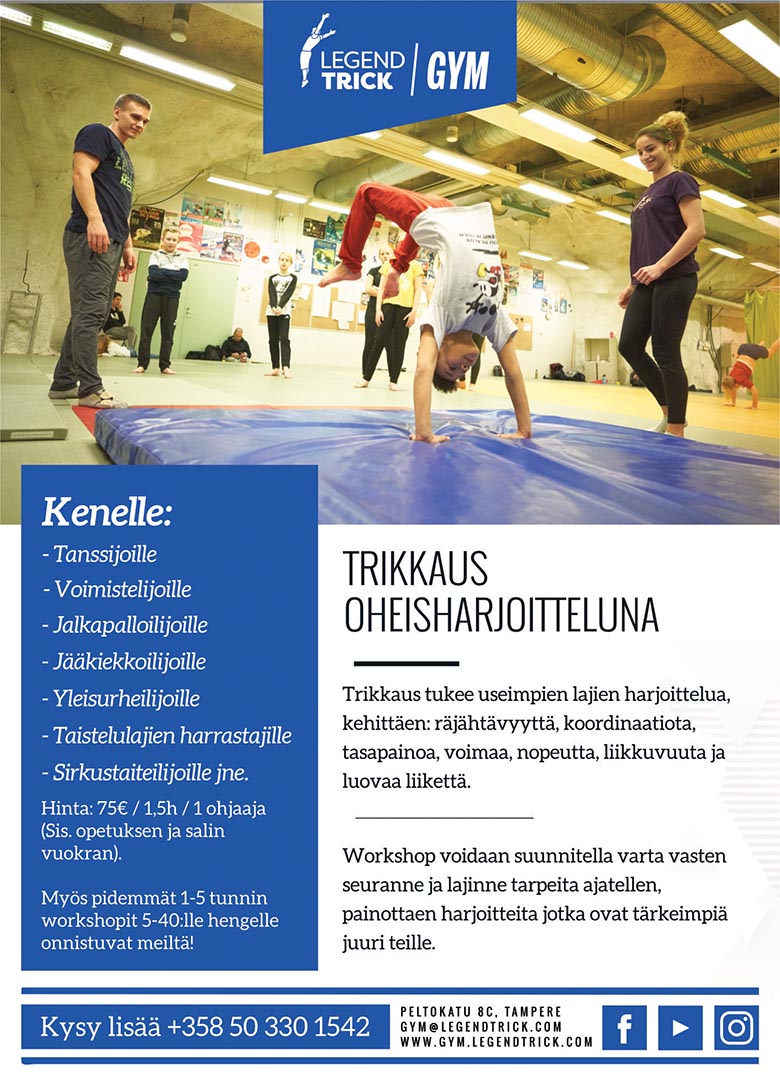 Kaipaako lajiharjoittelu oheistoimintaa? Olisiko lajissa hyötyä räjähtävyydestä ja terävistä liikkeistä? Järjestämme liikuntaseuroille kaiken tasoisia akrobatiaan ja trikkaukseen keskittyviä oheisharjoittelutunteja. Tunnilla käymme läpi perusakrobatiaa ja erilaisia hyppyliikkeitä, joissa korostuu kehon kokonaisvaltainen hydyntäminen. Harjoitteet kehittävät mm. räjähtävyyttä, koordinaatiokykyä ja venyvyyttä.
Lasten syntymäpäiväjuhlat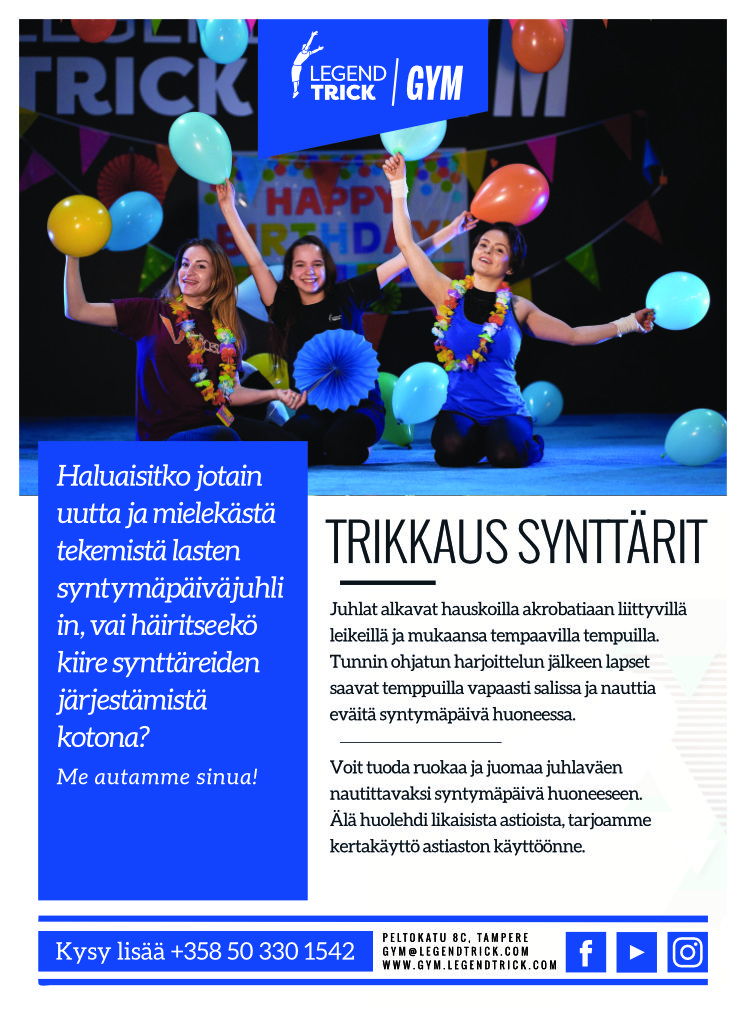 Haluaisitko jotain uutta ja mielekästä tekemistä lasten syntymäpäiväjuhliin, vai häiritseekö kiire tapahtuman järjestämistä? Me autamme sinua! Juhlat alkavat hauskoilla akrobatiaan liittyvillä leikeillä ja mukaansatempaavilla tempuilla. Tunnin ohjatun harjoittelun jälkeen lapset saavat temppuilla vapaasti salissa.
Voit tuoda ruokaa ja juomaa juhlaväen nautittavaksi syntymäpäivähuoneeseen. Ei tarvitse huolehtia likaisista astioista, tarjoamme kertakäyttöastiaston käyttöönne.
Hinta: 180 € / maks. 12 hlöä / 2 h
280 €/ 13 – 20 hlöä / 2 h
Lisätarjoukset: Kilpailut & palkinot – 30 €
* Välipala ja juomat – 10 € / hlö
Please contact us at: gym@legendtrick.com to book your birthday party!
TYKY-Päivät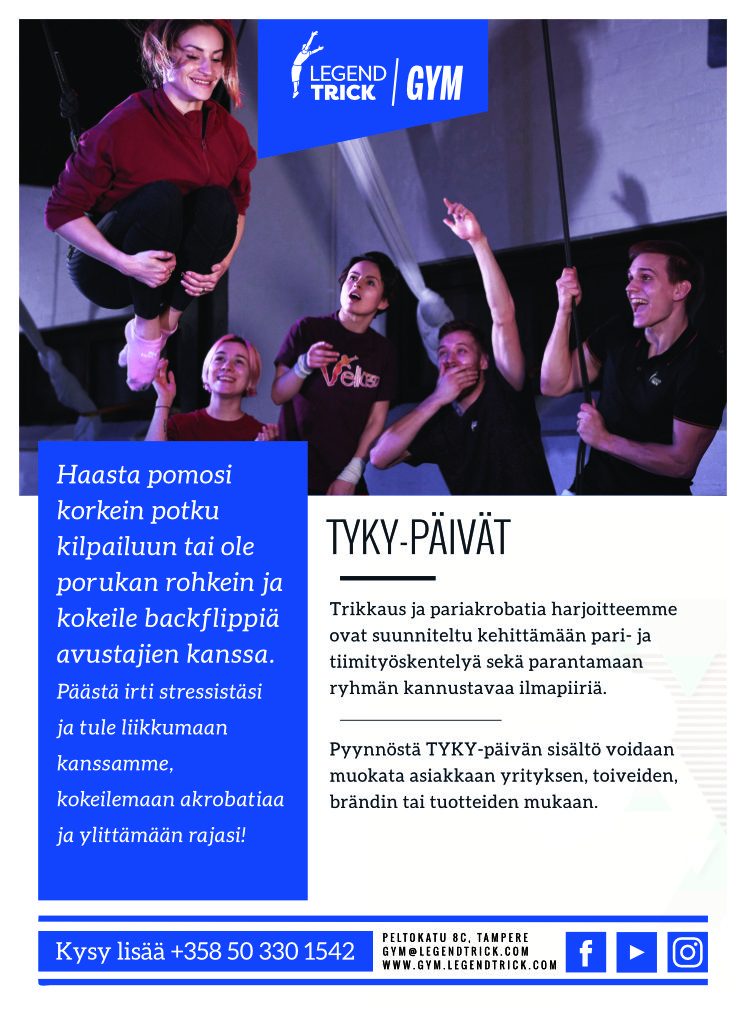 Haasta pomosi "korkein potku"- kilpailuun tai ole porukan rohkein ja kokeile taaksepäinvolttia avustajien kanssa.
Trikkaus ja pariakrobatia harjoituksemme ovat suunniteltu kehittämään pari- ja tiimityöskentelyä sekä parantamaan ryhmän kannustavaa ilmapiiriä. Päästä irti stressistäsi ja tule liikkumaan kanssamme, kokeilemaan akrobatiaa ja ylittämään rajasi!
Pyynnöstä TYKY-päivän sisältö voidaan muokata asiakkaan yrityksen, toiveiden, brändin tai tuotteiden mukaan. Ota yhteyttä: gym@legendtrick.com ja kysy tarjousta!
PolttariTrikkaus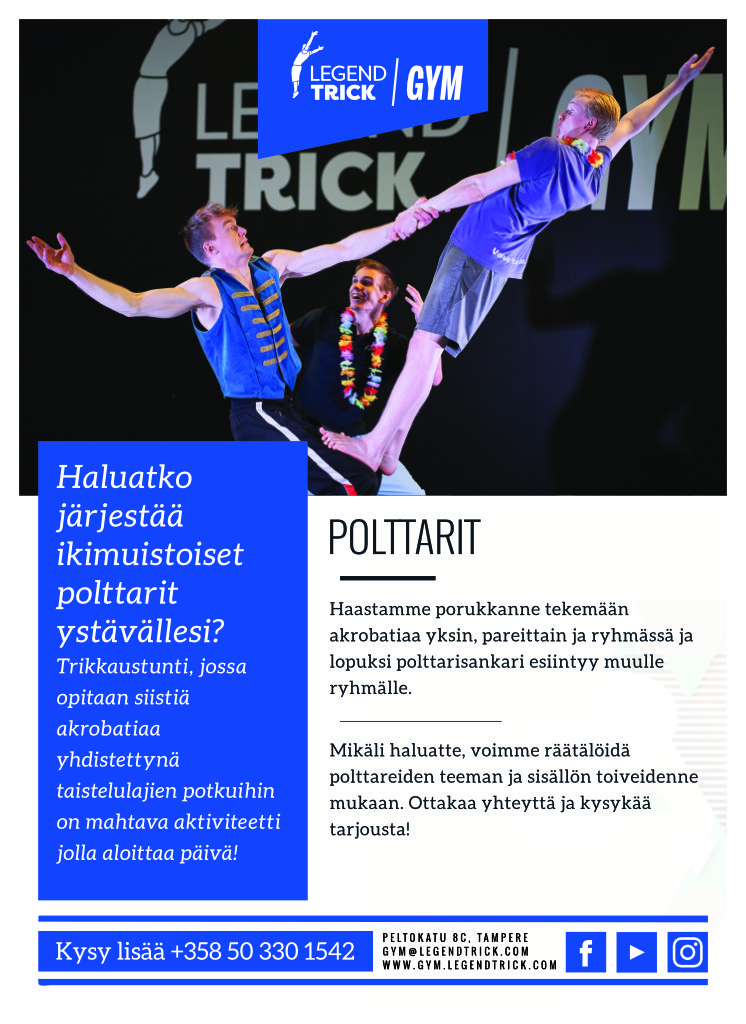 Onko tavoitteena vuosisadan polttaribileet, mutta perinteisten aktiviteettien sijaan kaipaatte päivään jotain uutta ja haluatte adrenaliinin virtaamaan? Onko polttarisankari aina halunnut tehdä takaperinvoltin, mutta sukat ovat aina väärissä jaloissa eikä kengät jalassa viitsi yrittää? Tarjoamme mahdollisuuden kokea hauskan ja adrenaliinintäyteisen Trikkaustunnin, jonka aikana varmistamme että polttarisankari pystyy turvallisesti tekemään mm. edellämainitun takaperinvoltin!
PolttariTrikkauksessa keskitytään pareittain, ryhmissä ja yksilöinä tehtäviin harjoituksiin ja lopuksi päivän sankari esittää juhlaporukalle esityksen musiikin kera, johon ohjaajamme hänet valmistavat.
Themed tricking workshops
Antifragile body workshop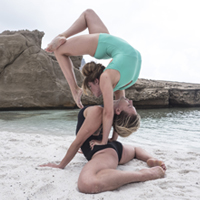 "How to build a robust body for any situation"
Course on how to build a strong, mobile and capable body for any sport/activity. Course is aimed for adult practitioners of all levels & different sports. Give you tools how to continue by yourself after the workshop
Structure
Injury prevention for any sport through the methods of:
Learn how to properly prep all of your major joints to take a beating

Learn how to build the musculature around all of the major joints to project your joints from damage

Learn how to build strong & flexible muscles for anything

How to properly rehab after injury
Movement & play workshop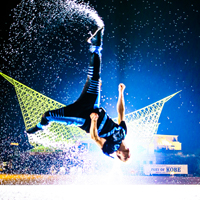 "Reconnect with your inner child" / "Exploration into the world of movement"
Course that explores the world of movement thru fun & challenging solo, duo and group games and scenarios. Different tasks & games that will challenge both your mind and body in interesting ways.
Scalable difficulty for all levels of fitness. Connect with your own body and with new people.
Try to give you new ideas how to improve your strength, mobility & overall fitness. For adults (could be modified for children maybe).
Structure
Importance of playing & games
Warming up thru different partner games & tasks
Building strength & mobility thru different solo/partner games & tasks
Bigger group games & tasks
Stronger Flips workshop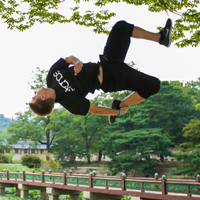 "Become a flipping monster" / "Learn to flip"
Course to teach you how to safely learn basics of frontflip, sideflip and backflip. Easy to follow step-by-step progressions to get you flipping on your own. Complete beginner to medium level practitioners, no former flipping experience required. Give you tools how to safely continue your own flipping practice after the workshop.
Structure
Technique of flipping (blocking/jump, tuck, landing)
How to warm up properly before doing flips
Exercises that prepare your body & mind for the flips
How to frontflip
How to sideflip
How to backflip
Basics of different flip variations
Tips & tools how to safely continue your practice on your own
Q&A
Dynamic kicks workshop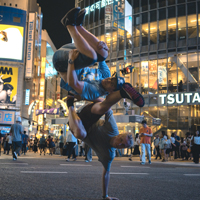 "Become a real life ninja"
Course to teach you how to safely and efficiently build dynamic, sharp & flexible kicks for martial arts, tricking etc. Easy to follow step-by-step progressions to get you doing sexy looking basic & more acrobatic kicks. Get to test your kicking skills on kicking pads. Learn the most important conditioning & flexibility exercises for building good kicks. Aimed for beginner to medium level practitioners, no former kicking/martial arts experience required. Give you tools how to continue your own kicking practice after the workshop.
Structure
Learn how to properly warm up for kicking practice
Learn the techniques for traditional ma kicks like front-,side-,round- & hook kick
Learn the techniques for traditional capoeira style crescent kicks
Learn how to take your kicks to the next level with tornado kick, pop 360, blaster, compass, back- & front sweep
Drilling kicks to target (kicking pad)
How to creating cool combinations from the kicks you learned
Conditioning exercises that build strength for kicking and help you prevent kicking related injuries
Flexibility exercises that build flexibility for kicking and help you prevent kicking related injuries
Q&A
Basics of twisting workshop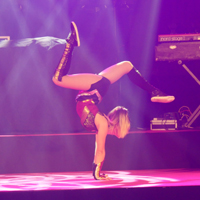 Course to teach you how to safely start learning basic twists of tricking/acrobatics -> front fulltwist, back full twist and butterfly twist. Easy to follow step-by-step progressions to get you doing these twists. Aimed for beginner to medium level practitioners, recommended you know how to do frontflip, backflip and butterfly kick before you come to this work shop or at least one of those skills
Structure
Learn how to properly warm up for flipping & twisting practice
Learn the technique how to do vertical 360 jump
Learn the technique how to do start doing frontflips with a twist (front half & -full)
Learn the technique how to do start doing backflips with a twist (backfull)
Learn the technique how to do start doing butterfly twist
Learn how to start adding different kinds of cool variations to your twists
Learn different setups for your twists